I'm spending SO much time coming up with these blog titles.
I've TOO much time on my hands; perhaps I need a job. This looked interesting;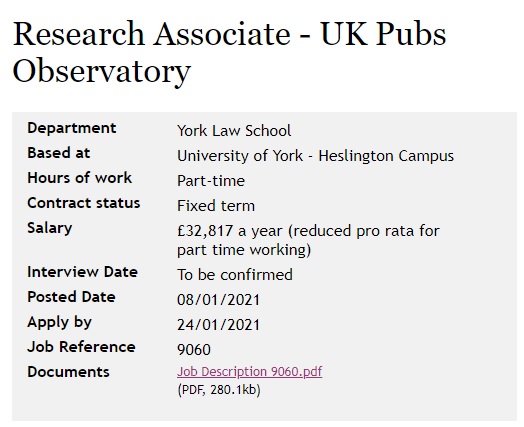 Sadly it was too much effort to read the Job Description, but I assume they want someone to walk round taking photos of closed pubs. Can't imagine who would want to do that.
Today marks a month in Sheffield, after finally retiring to The North.
Not the month I'd been hoping for, but far, far better than spending the last month stuck in the flatlands of the Fens. We're glad we moved, and as soon as Mrs RM finishes the decoration I'm sure she'll leave the house herself.
I've taken a critical look at the key differences between Waterbeach and Walkley.
Surprisingly, the biggest difference isn't whippets. Or Warburtons. Folk here actually spend £4 on a loaf of sourdough, just like they do in Cambridge.
Hills
Sheffield has hills. It really does.
Not just the formal parks and ski slopes, either. A mere 10 minute walk down to the Chinese takeaway and back will walk off 437 calories, or 12% of your Crispy Beef and Singapore Rice content.
Who needs expensive gym membership when you can walk 4.999 miles from home, come back with a bag full of barm cakes, and STILL get fitter ?
Takeaways
We haven't had many takeaways yet; only 3 using the Deliveroo App where we got free delivery for a fortnight, and a stunning Phad Thai from the Moor Market.
Taste of China and Noodle Inn Centro were pretty good, particularly matched with Doom Bar and Farmers Blonde,
but I've yet to find a Sheffield rival to Chung Hwa. Sadly, a visit home for a Chinese takeaway is not considered an essential journey, even outside Derbyshire.
Pubs
What's a pub ?
Beer
Having slagged off folk who sit on sofas in their underpants drinking craft cans, we succumbed to drinking craft cans on the sofa. This one, perversely, came from Waterbeach via Hop Hideout.
But we didn't drink it in our underpants, so that's OK.
I had troubles with the birthday mini-keg,
but found greater joy with the 2 pints in a milk bottle from the Valley of Beer, which were a real treat till they stopped pubs offering even that.
But as someone who knows about these things said today,
Beer is no substitute for pubs.
In Waterbeach I had one great pub on my doorstep; here in Sheffield it's 101, really.
Art and architecture
Yes, I've been to Sheffield many times before. And yes, Cambridge does have beauty, but here I'm finding wonder in the most unlikely places;
Oh, and the people are lovely. Our neighbours popped round with a gnome and apologised in advance if they were loud, as the chap was a big Sheffield United fan and made a lot of noise when they scored.
Should be safe for a few months, then.