"Your favourite pubs in which to have a pint of Bass"
Another request from Dave; those Yanks are so demanding, aren't they ?
Here's seven, one a day. Quite a celestial bunch in many ways;
The Star, Bath
It's two years since my Big Day Out in Bath, and not many days have bettered it since (the Craft Union in Dereham excepted).
A blissful combination of bench seating, banter and Bass from the jug (if you ask nicely at the bar), we stayed for a couple but it should have been more.
The Sun, Stockton-on-Tees
The Bass pub you'll be least familiar with, even if you live in Stockton, as the Sun rarely troubles the GBG these days.
And the banked Bass, half-poured pints kept in the fridge then topped up when served, isn't to everyone's taste.
But in a world of genteel beer sipping, the Sun is a reminder of a time when pubs were loud and ale (mostly Carling, to be honest) was sunk quickly, aided by that foam.
One of the famous Cornish Bass pubs, along with the Dolphin and the New Inn, and perhaps not the easiest pub to "get" if you're a lone female under the age of 60. Certainly my sister was a bit intimidated by the frosted windows and outside smokers when she spent a year in Falmouth.
And on my trip this year the talk was all of Tommy Trinder and I fell in love all over again with the twinkling lights and flat Bass. You must go, too.
Definitely the best Bass next to a football ground (not much use in these times of games behind closed doors), and probably my favourite pub in London.
A stunning all-rounder, only spoilt by en-masse visits from neighbouring CAMRA branches drinking Harvey's.
Remarkably, you may find some folk NOT drinking Bass in this wonderfully social pub on the edge of the Tyneside coast.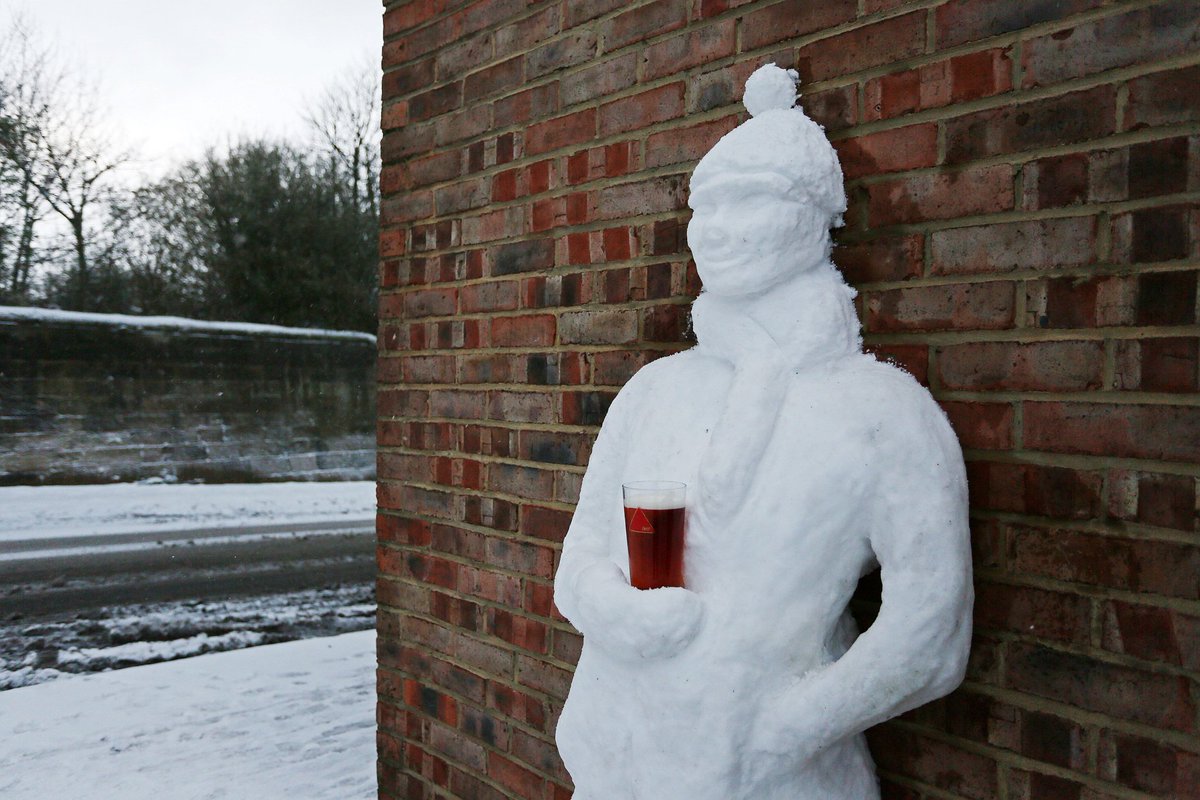 If Tyne & Wear escapes the harshest tiers next week I'll be very tempted to join that snowman over the winter.
You thought I'd forgotten ?
The Bass here isn't to everyone tastes, but then some people are philistines.
Of course, this is a trick. The ONLY place to drink the Bass from the Coopers is in the curry house next door.
And finally, a pub I've always loved but never got round to blogging about.
Dead Poets Inn, Holbrook
An adult pub, which rather scuppered family visits, but flat Bass (or Pedi) from the jug by the scary fire in this rustic looking Everards gem is one of life's pleasures.
Oh no I've forgot the Dolphin and the Black Lion and the St John. But I've managed to get a decent geographical spread; perhaps you could get your designated driver to do all seven in a day, Dave ?