The problem with doing an annual review is that Simon Everitt has already written that book.  In 1993 I read Vikram Seth's 1,500 page "A Suitable Boy" in a week, and Simon's post makes Vikram's epic seem like a Independent puff piece (i.e. all current Indy content). My review will be concise, partly because I can't be bothered to read all my posts from last year.
Hull has its year in the drizzle this year. Simon really ought to play his Hull card, don his Tigers '93 shirt, and take paying American visitors to overhear banter in the Queens and Black Boy, or add a plaque to the corner in the Whalebone where he was conceived. Here's a business card idea.
I visited Hull in March; you should too. Hopefully the famous toilets near the Wilberforce Statue have been reopened by now.
"THE STATS"
Responding to health advice from Nick in Erlangen, I've focused more on climbing steps than walking this year. The London Underground steps are particularly good for stamina training.  My "Villains of the Year" award goes to the snail-paced residents of London, who really ought to get in shape in 2017 and pick up pace.
Pub-wise, 529 new Beer Guide pubs were visited, which is pretty much what's needed each year to get close to completing the GBG.
I suspect a certain Mr Mackay beat that last year, but I also think Alan Winfield's achievements should be acknowledged here.  More than 500 new pubs as well, but with Alan you get the grim keg pubs as well. He's an inspiration, and his comments on my blog are the ones I look forward to.
"HIGHLIGHTS OF THE YEAR"
On my gravestone it will just say "Met BRAPA.  Survived". Never before have I been so conscious of being in the presence of pub genius as when Simon got his notebook out, apart from every day I spend with Mrs RM of course.
Life isn't all pubs. This was my discovery of the year.
The Cathedral in Krakow was stunning, but couldn't match Coventry.
In August at End of the Road  Festival I heard the song which I've yet to get to the end of without a tear in my eye.  At my age these songs matter.
It was a year of folk/punk females – Martha and Julia Jacklin providing the best gigs and records of a wonderful year for new, if not old music.
In April at the Yard of Ale in Thanet I met two pub legends, the afore-mentioned Nick and fellow traveller and all-round legend Allan from Rawmarsh, who sadly died in July. Here is Allan's arm;
Several things to dwell on from that Yard of Ale visit.
There is no greater joy in the world than chatting with strangers in the pub. Unless it's a micro pub and you want to be left alone,
The beer in the Yard of Ale wasn't fantastic; beer quality isn't everything,
Rotherham is a fantastic town,
Titanic Plum Porter was here, there and everywhere.
Which brings us to;
"BEER OF THE YEAR"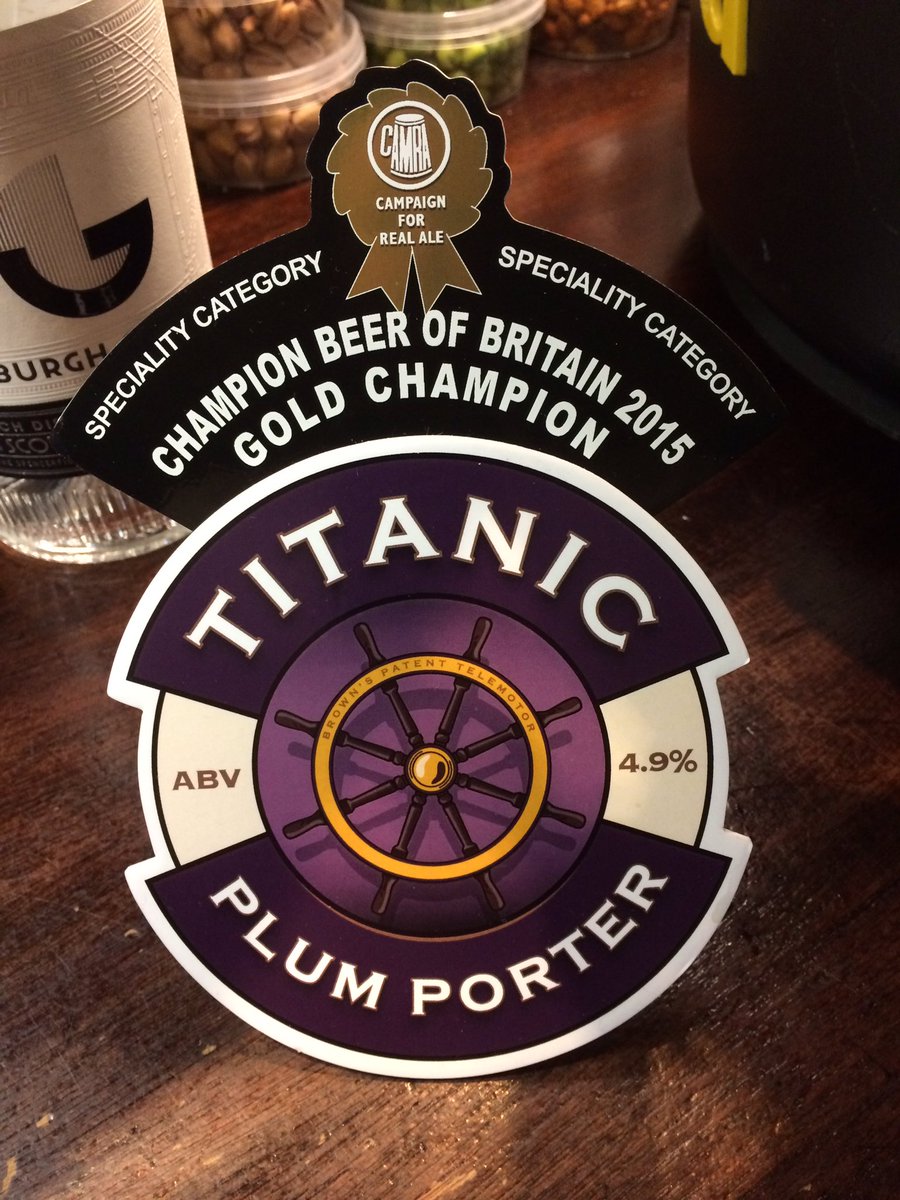 The MBE for Keith Bott surely confirms this as Her Majesty's favourite beer (Am I allowed to say that ?)
"PUBS OF THE YEAR" – York Tap/Newtown Railway Tavern
"PUB MAN OF THE YEAR"
I know this will upset a few people, but that's the idea.  Cooking Lager has been the blogging disappointment of the year (just two), but his championing of the Stockportshire Pub of the Year gave us a return to sanity in the quality v quantity debate.
The Boar's Head yesterday was everything you want in a pub. Cosy, warm, full of cheery old codgers and incomprehensible banter, and a high quality pint for £1.90.  If you don't want OBB anymore, go next door. Just don't complain about lack of choice.
I also commend Richard Coldwell, for his intelligent blogging, settling inflaming of the "craft definition debate, and particularly for the beer quality at his Clifford Beer Festival.
"PUB CRAWL OF THE YEAR AWARD"
Mr C Knight Esq accompanied me on the great pub crawls of the year, taking in Bridgnorth, Market Drayton, Wolverhampton and East Dereham, among others. But nothing compares to Nuneaton.
My Un-nanmed Hero of the Year award goes to the young lady (fuller description from Charles on request) who told us what a joy it was to work for Caffe Nero, and was a great advert for youth.
"TECHNICAL SUPPORT AWARD"
This blog gratefully acknowledges the support of Tim Thomas and Pub Curmudgeon, whose encouragement, comment and correction have been invaluable.  I can only aspire to write as interestingly and proper like as those two gents.
And very definitely not least, I thank those folk who comment on my blog. I'll be writing about Dick and Dave tomorrow, when I'm sure they've left the country (joking), so here I celebrate the great Tom Irvin, who is actually funnier than Simon and should be allowed out of Grimsby more.