Look at the sacred scrap of paper with my West London itinerary and you'll see how I'm sticking to the running order.
Can I make it to the very end ? Don't be daft, that's sixteen (16) pubs.
It was hard enough getting to Richmond's Tap Tavern, for goodness sake.
I waited on the corner of Albany Road admiring Brentford's underrated pub stock.
And waited.
And waited.
Three Number 237s came and went while of the Number 65 there was no sign. It was 55 minutes walk, say 45 minutes for me. Just too far, I thought.
I asked the other chap who kept looking at his watch if he was waiting for the Number 65.
"Yes, but it's not coming. The Travelodge is on fire and the 65 can't get through"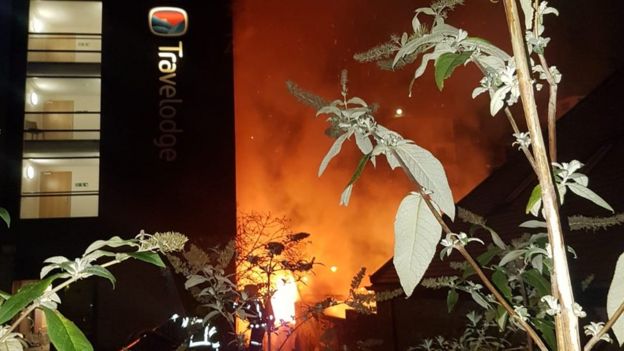 And so it was.  Not even pausing to ask him why he'd been standing there for an hour, I headed along the High Street to pick up the bus on Kew Bridge.
2019 and Google Maps can't even update for a closed High Street.  It doesn't even know the Huntingdon bypass is built.
I have never been on a quieter street than Brentford's main drag that lunchtime, completely closed to traffic.  It was like being back in the 19th century, or in Frinton-on-Sea if you like.
By the time the rerouted 65 reached Richmond Station, having stopped 65 times to disgorge tourists at the entrance to the Kew Christmas show, in which a craft beer is made from every species of plant, I was dying for the loo (sympathy please).
In situations like this, you always struggle to find the new pub, hidden down an alley not marked on the map.
Phew !
Of course, polite protocol dictates you but your beer before buzzing of to the Gents.  BRAPA may have different rules.
The barman was just putting the little Almasty badge up on the wall.
Now, I may go to ticking purgatory for this, but I eschewed the cask in favour of the keg. It was probably Key Keg, anyway.
Cue (geddit) a load of froth and splutter.  Old folk reading this rubbish will know that when you're desperate for the loo the last thing you need is a dripping tap, Key Keg or otherwise.
So I left him while I rushed upstairs, leaving a queue (geddit) of hip Richmonders to form at the bar.
There's a separate Irish themed bar called Dropkick Donkeys upstairs which may introduce cask Caffrey's to get its own GBG listing and confuse Duncan.
Back downstairs my Saison ("good choice") was ready.  Look how London Tyneside murky it is. Lovely.
A bit modern beer bar reminiscent of Brooklyn or Washington DC, which is something I never thought I'd say about Richmond.
Lovely staff, good beer, low tables.
But Kings of Leon ? Come on !