I'm up in Stockport tomorrow for City's New Year's Day match (moved by Sky to the 2nd of course).
While there I hope to catch up with two US visitors who I'm sure will be delighted with the reading matter I've collected for their return train trip to Euston.  There's even an Imbiber in that pile if they want to get to sleep by counting how many new beers Brodies have released.
Alongside the Good Beer Guide, and the group ordering halves of Unicorn at Christmas,  newsletters are one of the most recognisable products of CAMRA. I'm a big fan; it looks much less suspicious to be seen reading one in a pub than, say, "Moby Dick".
Talking of Robinsons Brewery,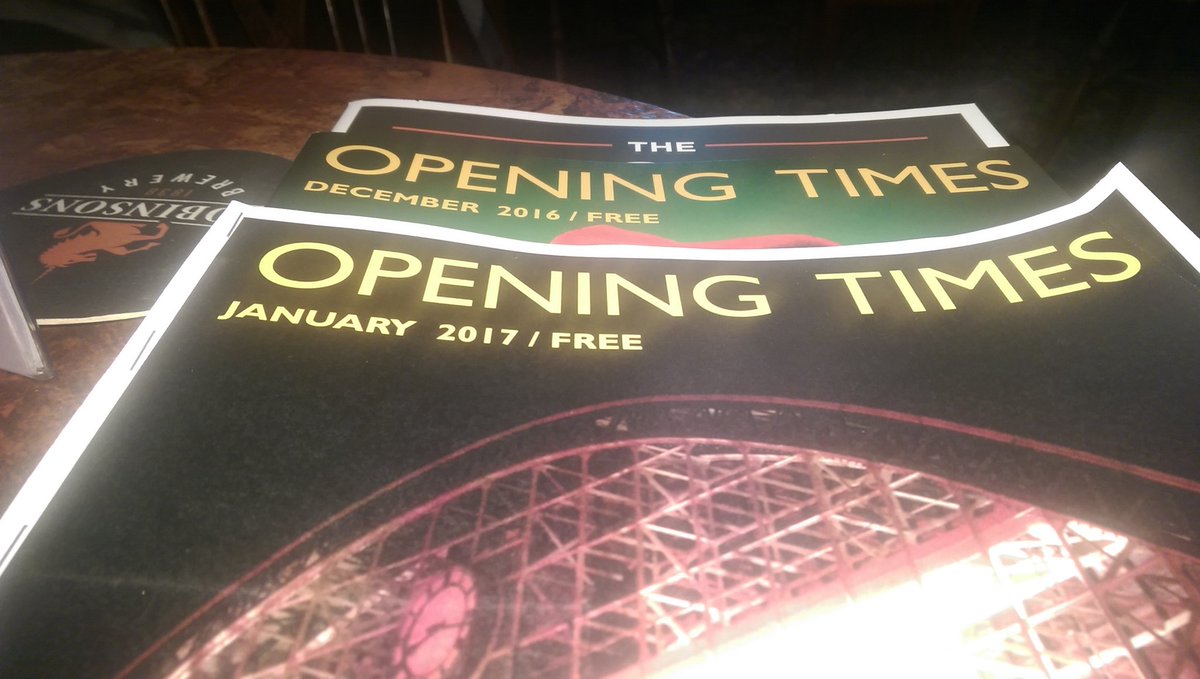 Hopefully Dick & Dave will have been able to pick up a recent copy of Opening Times,  still my own favourite newsletter.  That might just reflect my own pub preferences, but OT does seem to me a model of good, concise writing and broad coverage of the branch pubs.  Some of the regular contributors have some dodgy views, mind.
In 2016 I visited all the English and Welsh branch areas at least once, and managed to pick up a newsletter in practically each of them, which is impressive.
A few comments;
Respect due to all CAMRA volunteers for getting a magazine out at all.
Good to see some new newsletters starting up in places like South-east Wales.
Quite a lot of empty newsletter holders spotted; visiting pubs to refill them a thankless task for  volunteers.
Less is often more – Ullage in West Berks fits the essentials into 12 pages.
Conversely, a few read more like Imbiber these days, with page upon page listing local brewery new and one-off beers, though that's a personal bug-bear.
Most branches have got newsletters on-line these days, which is a step forward.
In general, a real reluctance to talk about quality, let alone NBSS scores. I can see why branches wouldn't want to upset licensees though.
And conversely, an enduring obsession with hand-pump count.
I know HQ have reservations, but I love the holiday reports in Last Orders from Lichfield/Sutton/Tamworth, my second favourite read.
Ale Cry – defenders of the faith.
By the way, there is one that I've always found unreadable gush.  The Branch concerned carried out a consultation this year, to which I responded, so I look forward to seeing the results in 2017.
Thanks to all Newsletter editors for such great and unheralded work in 2016.