The worst thing about being Tier 2 is that I can't really do more than a pub a day and stay my svelte, athletic shape.
So that means I can realistically only bring you ONE post daily, at least for the next week. Which will disappoint my Patronised readers who signed up for three a day.
Unless I veer slightly away from pubs.
I've been greatly enjoying the sporting contest of the year;
This is our hero aging in his 20s.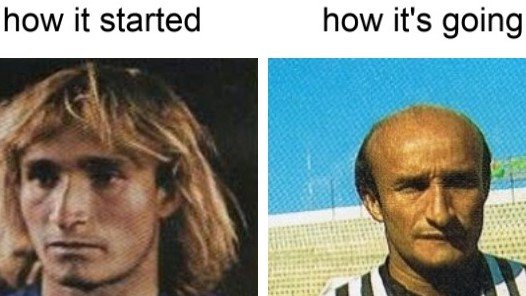 Be honest, Nivaldo (29) is the only one you recognise in the BBC's shamefully woke Sports Personality of the Year shortlist.
But if playing football in the early '80s can do THAT to you, what toll does visiting GBG pubs in winter take on your heroes ?
Ladies and gentlemen, take a look at these picture of our leading tickers and judge which have been most traumatised by unexpectedly shut Kent micros, Buckinghamshire gastros and British Rail coffee.
BRAPA (12)
& BRAPA (42)
2. Maltmeister (60ish)
& Maltmeister (60ish)
3. Duncan "Pubmeister" McKay
& Duncan "Pubmeister" McKay (307)
4. RetiredMartin (25)
& RetiredMartin (55)
Voting (via the comments) close on Sunday.
Usual prize;
Half-and-Half scarves will be available of your favourites shortly.