It's a fortnight since I left the village, 3 weeks since I left the Fens, and I'm missing those long drives up the A1 belting out Julia Jacklin and Bruckner on the way to The North.
Roads are so quiet I could be in Stamford in under an hour, unheard of 6 months ago.
The view heading south on the A1 across to the golden spires of Stamford as you cross the Lincs/Cambs county borders is one of England's greatest.
Sadly, I'm not allowed to stop in the middle of a dual carriageway to take photos, so here's one from Jonathan (@zuffleking), the Electric Pics of the East Midlands. Great photos on his Twitter.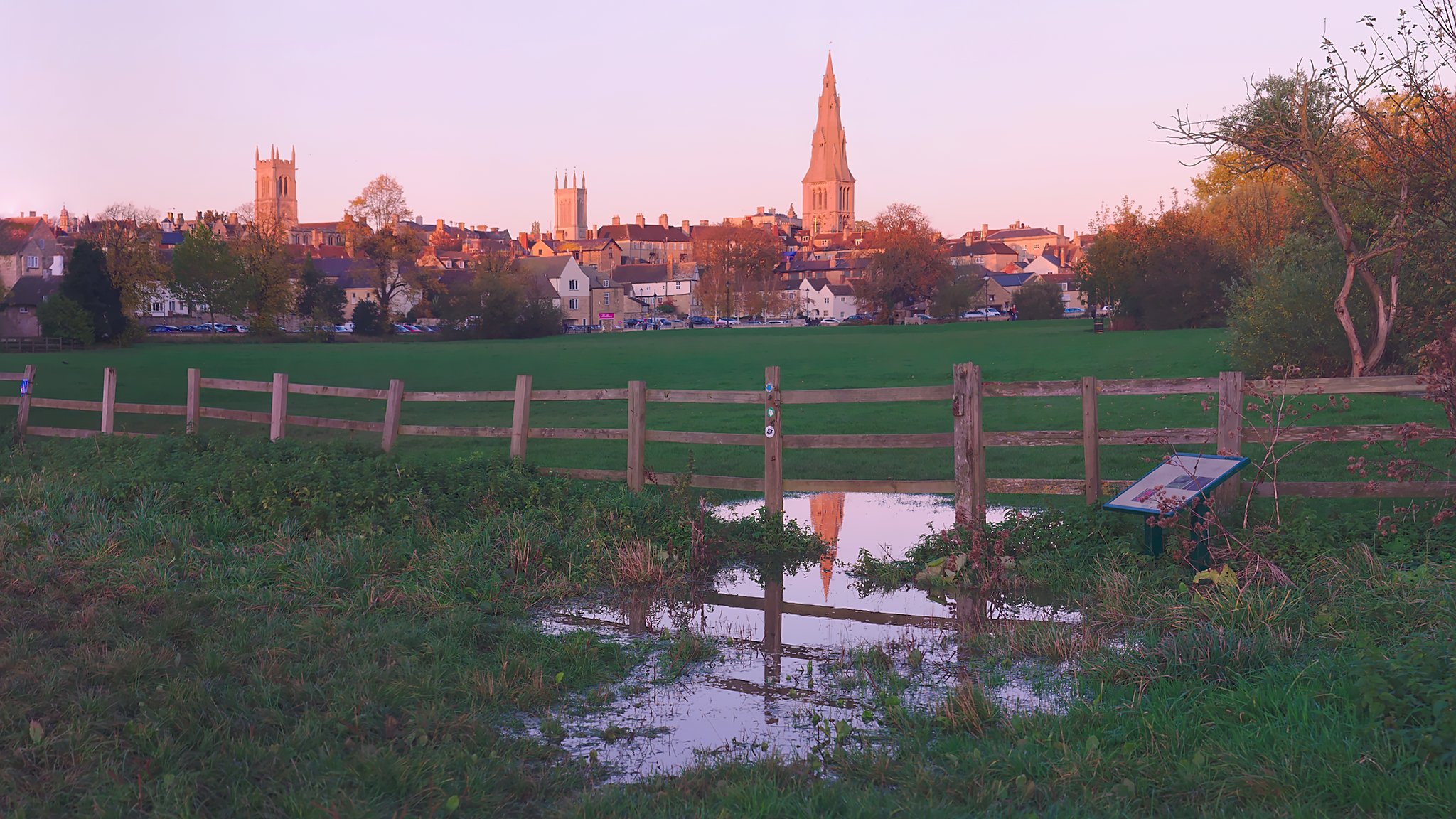 3 visits for me in 2016/7, though nothing new pubwise for a while. What do you think this is, Bermondsey?
Recommended for an overnighter, whether in the chintzy (the George) or the cheapskate (our campervan).
Great riverside walks, 344 churches, 208 artisan shops, just enough pubs.

Life After Football visited the multi-roomed Tobie Norris (aka the "Pashmina & Pizza") in 2017 and told us "it's no Coalville".
Young Simon wasn't taken with it in that same tumultuous year. In fact, he gave the town the sort of shrift normally reserved for weirdos who ask for tasters.
"The folk of Stamford are perhaps the smuggest, most self satisfied looking individuals on the planet.
Lose the attitude people, you're still from Lincolnshire, and not even good North North East East Lincs. "
You can see the problem Si has with Stamford immediately by visiting the Tobie and the King's Head.
But, and here's the rub, the town has some spectacularly good beer. 4s and 4.5s in the Jolly Brewer and King's Head.
In the 90s the local CAMRA pub guide (see top) revealed a treasure trove of craft.
Nowadays they're a treasure trove for folk mourning the demise of Laura Ashley.
Even the Sam Smiths duo look posh.
The Green Man has NEVER looked posh.
And if you come to Stamford on a Sunday night for karaoke in the Fleece you'll get a rather different impression of the locals in their tattered tops.
The karaoke of choice WAS "Chasing Cars", but be kind, these are troubling times and some people take comfort in Snow Patrol.
I take comfort in photos of lacings.