Today's blog title comes to you (indirectly) courtesy of Dire Straits, a cult band from the early '80s now ripe for re-evaluation, I feel*.
One of the joys of Britainbeermat's new blog lifeafterfootball839 is the way he delves into corners of east Brum most of us would rather not go.
I have a suspicion that 839 is the total number of pints of real ale sold in the beer desert between St. Andrews and the NEC last year.  Certainly very, very few GBG entries have dragged me there over the last 20 years.
In fact, narrow it down to the area between the M6 and Marston Green and you're left with just one real ale outlet (marked below), a venerable Crown Carvery. And you thought folk in Dumbarton were unlucky.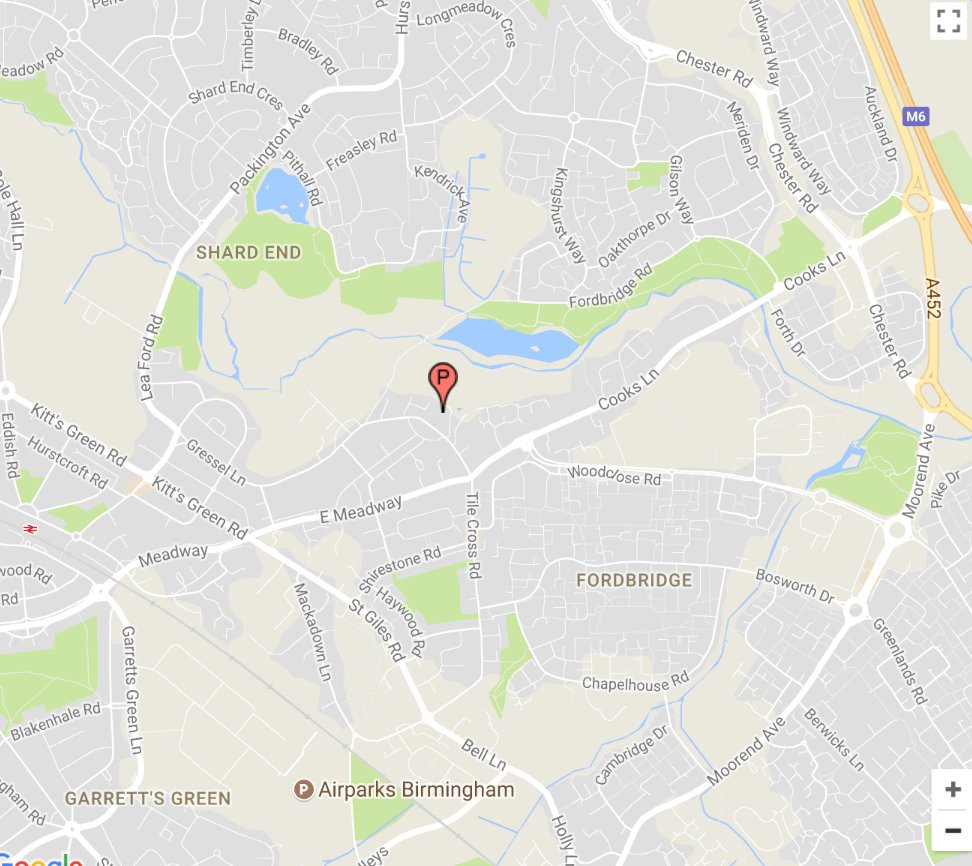 Still, a new entry in Ward End, or 991 Alum Rock Road to be precise, is all I need to drag me out on the train to Stechford.  More places you've never heard of in one line than in the entirety of my blog.
So what have we got here ?
Wide boulevards, 20th century churches, an Asian-Italian buffet and rows of shops seemingly transported from North-West London.
A very large, mixed suburban area enjoys the odd sliver of green, seemingly used as a giant dumping ground since the Birmingham dustbin dispute, sadly.
My tranquil walk around the Cole Valley was only disturbed by distant car horns and EasyJet flights, with not a human in sight.
Even the cat avoided me when I finally made it back to civilisation, somewhere near Hodge Hill, just after I thought I might be trapped in allotments forever.
Goodness, this area of Brum looks the same, street after street of identikit suburbia, but luckily WhatPub was able to place the Raven for me, which always helps with directions.
It looked quite inviting, but there's only so much Doom Bar anyone can drink in suburban diners, so I'll wait till it makes the Guide.
Instead I headed for the Hornet.  Boak and Bailey had just been highlighting the treasure across the road.
A kindly soul had arranged some seating for viewing the Fox & Goose across the B4114.
In contrast, the Hornet is one of "Tim's lesser treasures".
Luckily, the heart of a pub is in its people, not its frescoes.  Though a good Stephen "Tin Tin" Duffy appreciation board always goes down well.
The Hornet's heart is the cheeriest group of retired blokes I've seen in a pub all year, clearly enjoying the benefits of Tim's "VAT–free day".
Those beers you can see were the entirety of the range, the sole local beer (almost certainly Sadlers) hiding in shame behind the Manager's Special board.
My Doom Bar experiment having ended in failure, I moved on to Greene King IPA, a mere £1.33 with vouchers.  What a day to be alive !
But was it worth £1.33 ?  It was worth treble that, the finest pint of IPA outside the Rose & Crown.  I reckoned NBSS 4, and that may have been a bit tight.
Some predictable banter about the Blues playing the stiffs in the League Cup, or whatever it's called.
"They played 10 reserves last night. Ten !"
"Naturally they lost, no momentum"
"Wish we still had Ian Clarkson" said one Old Boy, clearly the worse for wear.
Despite the bargain prices, another chap at the bar was 5p short after counting out the reduced cost of his Carling in 5p pieces.  I was about to make up the difference when he seemed to cough up the coin from nowhere, perhaps a party trick.
Not your obvious Beer Guide Spoons.  The barmaid looked a bit surprised by my voucher, the beer range is Old Skool, and I'd guess 70% of the custom was Carling and Smooth.  Coffee sale are probably the lowest in the Timdom.
But a triumph for quality over quantity, well done Birmingham CAMRA.
**Note for US/Canadian visitors -irony