I was a bit dismissive of beer festivals last week, but I do appreciate the voluntary effort that goes into them and the positive impact they have on membership recruitment and public perception of beer as a drink for all.
I'll no doubt get to Stockport next week, if only because they have plenty of seating which is one of my major reservations about festivals (not a problem for me at music festivals oddly).
And I popped along to our local one on opening night yesterday to see if the introduction of Key Keg really had produced the End of Times predicted by some. Fortunately that will only come after June 23rd (apparently).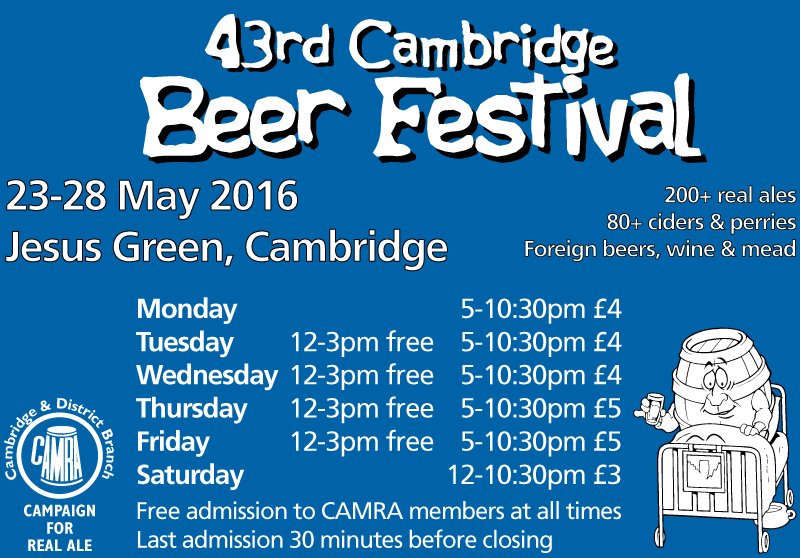 This is one of the big festivals by any measure, and a great way of introducing our many students to the joys of real (and dead) beer. At 5pm they were clearly still waking up, and the early attendees were closer to my age, though with more hair. I didn't spot many daft shirts, let alone objectionable ones.
Opening day of the fest is also a big thing for our publicans, many of whom were enjoying a well-earned night out in the sun. Unless they were running "rival" beer fests across the park.
The volunteers are relentlessly cheerful, taking time to explain the meaning of FUBAR to me, and clearly enjoying the festival as much as the punters.
Ultimately, it's a big night out, and a key annual event on the Cambridge calendar.  I can count on catching up with Doug and Simon, two old colleagues, on opening night and then not again till next year.
For quite a few here tonight, it will be their only exposure to beer all year, and they won't be seen in a pub apart from the Chef & Brewer and the Christmas lunch.  Incidentally, retirement is a great way to get out of the Christmas lunch.
This year we had Key Keg beers for the first time, clearly marked and lovingly explained to anyone who cared.  I even had a chance to chat to one of the folk from Milton Brewery, whose craft off-shoot Waikiki I greatly enjoyed, though you notice the fizz. For some odd reason I didn't have the Cloudwater, so will have to go back.
The beer range seems to focus more on new micros each year.  It's not that long ago they had Greene King IPA on, and I drank that as it was superb. Nowadays I've only heard of 5% of the beers on the list, and perhaps that's the point.
You had a choice of 200 odd different real ales, though the average festival-goer will try half a dozen at most.  If you stopped at the dozen pubs on my route from Cambridge station to Jesus Green, you'd have a choice of at least 50, and a dozen different environments to drink them in.
After three thirds (Beach, Tiny Rebel, McMullen) of decent if not great beer, I headed across Jesus Green to the Maypole, a standard bearer for beer quality in the city for 30 years, and running its own fest.
The chap there told me that the extra custom the CAMRA fest brings in all week justifies them expanding their own, already impressive range, so everyone wins. The Electric Bear wheat beer was superb.
POSTSCRIPT
I popped back at lunchtime today, and had very good beer from Cloudwater (cask and Key Keg) and Siren. I also had great chats with beer festival enthusiasts from Norfolk (and there's a lot of those).  The Cloudwater Saison on Key Keg was superb, and only a little bit fizzy, with the Key Keg bar the busiest again. Draw your own conclusions, or none at all.