Leicester City's Premiership win is the most astonishing event in my lifetime, even surpassing Mrs RM's two pints of Old Peculiar on twenty minutes for shock value. To win it by 10 points is beyond belief.
Lots of evidence of last night's euphoria in the town centre today, but no giant picture of their unsung hero. Shinji Okazaki's goal at Everton in December encapsulated their season, and for once a team's fans deserve it.
I'm there tonight for the Emma Pollock gig, only slightly less an event than their victory parade last night. To quote Emma from her latest LP, I plead for clemency for my underestimation of the Foxes.
What better place to savour the atmosphere today than the Ale Wagon, perhaps Britain's grumpiest pub.
This is one of those places that I've never liked, but have to go in on each Leicester visit. I took Mrs RM here before a John Grant gig in 2010; I would have been on safer ground taking her to Ikea and saying "Take your time, dear". Personally, I thought the toilets were fine.
Basic, rundown pubs are fine, but sour landlords and sour beer aren't. The only saving grace in 2010 was a particularly strong IPA; the Wagon is the antithesis of craft.
Well again, I apologise, as the Ale Wagon was perfectly pleasant in all possible respects today, and had the feel of a Sam Smiths house in Rochdale, only not £1.90 a pint.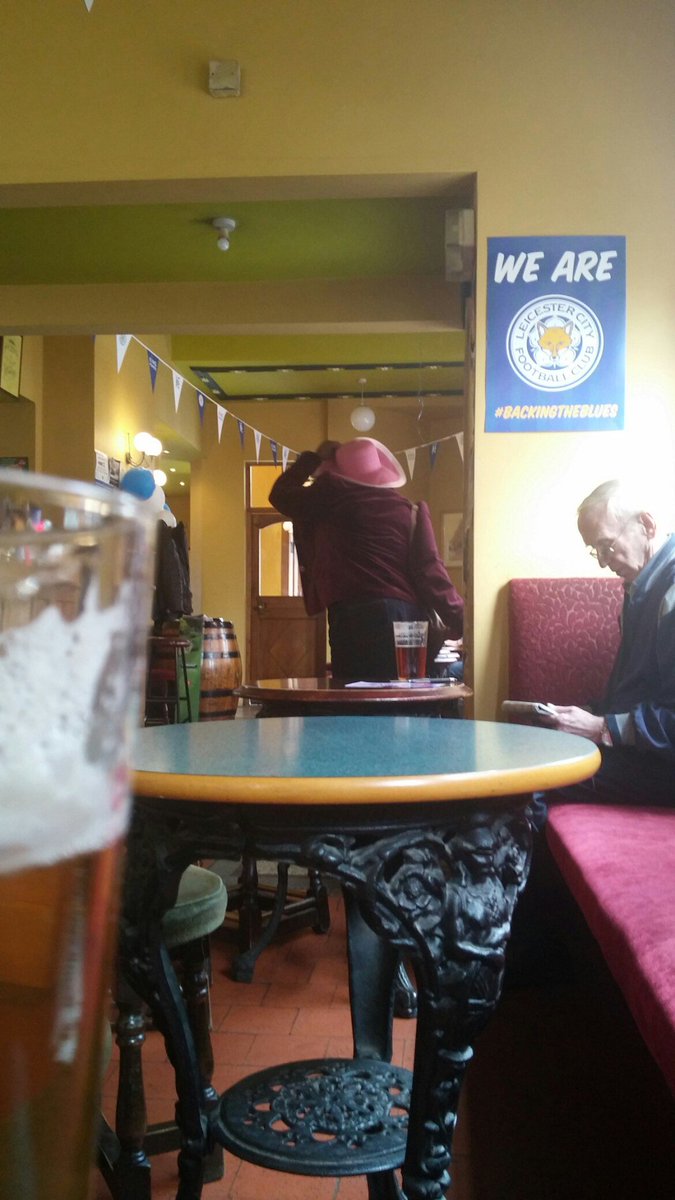 I wasn't sure if the football fever was genuine, but a few conversations confirmed it is, and the locals still don't believe it. They obviously sold a few pints yesterday, and "Dilly Ding, Dilly Dong" was the main conversational topic, along with back problems, possibly related. Eventually the hubbub subsided and half a dozen retired blokes returned to their colour supplements from the Sun.
They were selling a fair few pints of pale ale today,  including a special Champions beer that was one of the best I've had from Hoskins Bros (NBSS 3.5). I might even try their keg selection later.
Looking at Leicester CAMRA's website suggests a bit of overdue new life in the local pub scene, though The Pub itself on New Walk looks a bit forlorn. I'm glad the Ale Wagon is still around, and I'm sure Mrs RM is too.